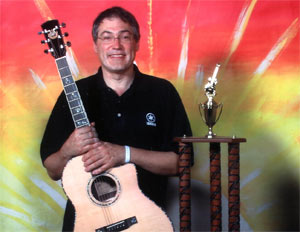 Don takes 1st place to become the 2007 International Fingerstyle Champion.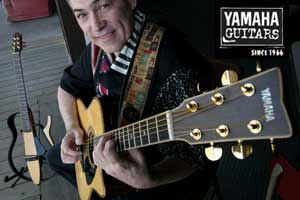 May 2007, Don signs national endorsement deal with Yamaha Canada and will play the amazing handcrafted LLX series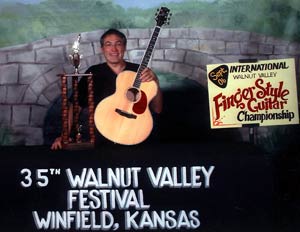 Don wins 2nd place at the prestigious 2006 International Fingerstyle Championships in Kansas and also wins best instrumental at the song showcase for the 3rd year in a row. Official news release can be seen HERE
(click on thumbnails for larger pics)
2006 NEWS
New CD Review of
"Cool Tunes Compilation" here
Met young Steven Moore in Kansas who took 3rd place. Played rythm guitar for him.

Wonderful new harp guitar made by Duane Noble.


Playing Stage 1 at Winfield KS, showcase for the contest winners

Don wins "Best Instrumental" for the Sat. Showcase at Winfield, KS for "He Said, She Said". Don has won this contest trhree years in a row.
Details here
"Walk the Dawg" featured on the Dean Markley homepage audio player. Click on thumb for larger
version or visit www .deanmarkley.com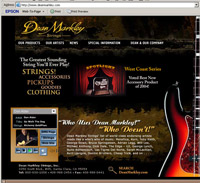 NEWS - CONTINUED

Playing on the Great Wall in China more pics here

and a little clip playing some guitar on the Wall
click here

See the finished version of the wall here

"Sayonara" now over 162,000 views on Youtube
watch in now

2005 Finalist at IAMA International Acoustic Music Awards for "DRDR"

Opening for Pierre Bensusan at the Capilano College Theatre, North Vancouver
Many thanks to Masa Sumide, Dolphin Guitars,
Yoshigi Onzuka, for a TOP NOTCH Japan Tour.
N ew comments in from the Japan Tour, additional pics on the pics page. Video coming soon.Masa will be coming to Canada in 2008 Stay tuned.